British tourists continue to cut short their holidays as fires burn on the Greek island of Rhodes.
More flights left Greece on Tuesday to bring holidaymakers back to the UK.
The Foreign Office updated its guidance, telling people travelling to areas that might be affected to make sure they had "appropriate insurance".
The Liberal Democrats have urged ministers to advise against going to Rhodes unless essential, to help with travel insurance claims.
Jet2 had nine flights scheduled to depart Rhodes on Tuesday, some of which had spare seats to accommodate extra passengers trying to leave the island.
EasyJet said extra seats were available on Wednesday's flights.
Earlier, one of the airline's pilots flying British tourists to Rhodes urged passengers at Gatwick to get off the plane before take-off.
"I don't know in what capacity you are travelling, but if you are travelling for leisure, my sincere recommendation is that it's a bad idea," the pilot told passengers on board.
BBC Wales correspondent Gwyn Loader, who was travelling to Rhodes to report on the wildfires, said eight passengers took the pilot up on the offer, including one young boy in tears.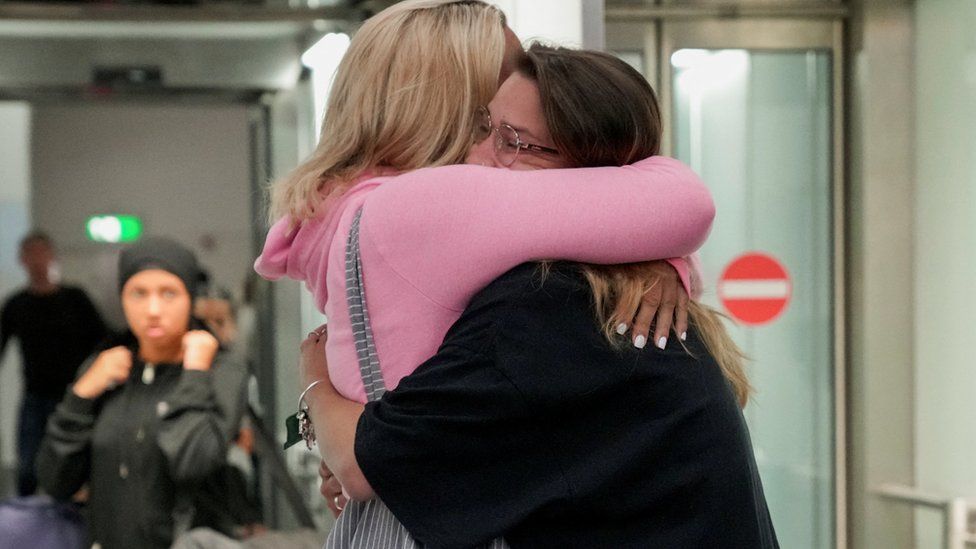 On Monday morning, Foreign Office Minister Andrew Mitchell said up to 10,000 Brits were on Rhodes in total – this number includes tourists in unaffected parts of the island.
Jet2 – which ran repatriation flights to Manchester, Leeds-Bradford, Glasgow and Stansted overnight – said "approximately 1,000 customers" had either been flown back to the UK or moved to hotels in unaffected areas.
EasyJet has cancelled outbound package holidays to Rhodes until Saturday, while Tui has cancelled its packages until 11 August.
Instead of formally advising holidaymakers not to travel to the affected Greek islands, the Foreign Office said people should check with their hotel and travel operator before travelling, and explained how to sign up for emergency alerts.
Updated advice said the fires were taking place "in populated areas on the mainland and a number of islands" and were "highly dangerous and unpredictable".
The Foreign Office advised those visiting the affected areas to make sure they had "appropriate insurance", and directed travellers towards a number of resources they could use if they were near the wildfires.
Earlier, Levelling Up Secretary Michael Gove said he was still planning on going holiday to Greece next week. He told Sky News he was going to Evia, one of the islands that has issued an evacuation order.
He told BBC Breakfast that Greece was "safe" and a "wonderful place for those fortunate enough to go abroad to spend some time this summer".
But the government's advice was criticised in the House of Lords by Labour's Baroness Angela Smith, who urged the government to "rethink" its guidance.
Liberal Democrats foreign affairs spokeswoman Layla Moran called for a change in travel advice to "enable the thousands of British tourists due to fly to Rhodes to safely cancel their holidays without being left out of pocket".
Marc Bolland, editor of Which? magazine, said many travellers would not be able to claim a refund using travel insurance without a formal government travel warning.
"There will be some cover, but it won't be great," Mr Boland warned. "Insurance won't, as a rule, make allowances for 'disinclination to travel'."
Train operator London North Eastern Railway (LNER) is offering free travel to holidaymakers returning from Rhodes and Corfu.
The company said standard travel along its east coast route would come at no cost for anyone who landed at a different airport from their home location or had to travel on a different day.
Customers should present their stamped passport and airline boarding card confirming travel from the islands within the previous 24 hours to use the service between 25 July and 7 August.
Coach company National Express is offering free travel too for those who arrive at a different UK airport than they flew out from.
https://emp.bbc.com/emp/SMPj/2.49.3/iframe.htmlMedia caption,
Watch: "Our houses might not be there tomorrow" – resident evacuated from Rhodes fire
In an update, fire brigade deputy chief Ioannis Artophios said the most serious fires were developing in Rhodes and in Corfu. Crete – the largest of the Greek Islands – has been put on high alert because of an extreme risk of fire.
On Tuesday afternoon, two Greek air force pilots died after a water-bombing plane crashed on the island of Evia while fighting wildfires.
They were named as 34-year-old Cdr Christos Moulas and his co-pilot, 27-year-old Pericles Stefanidis.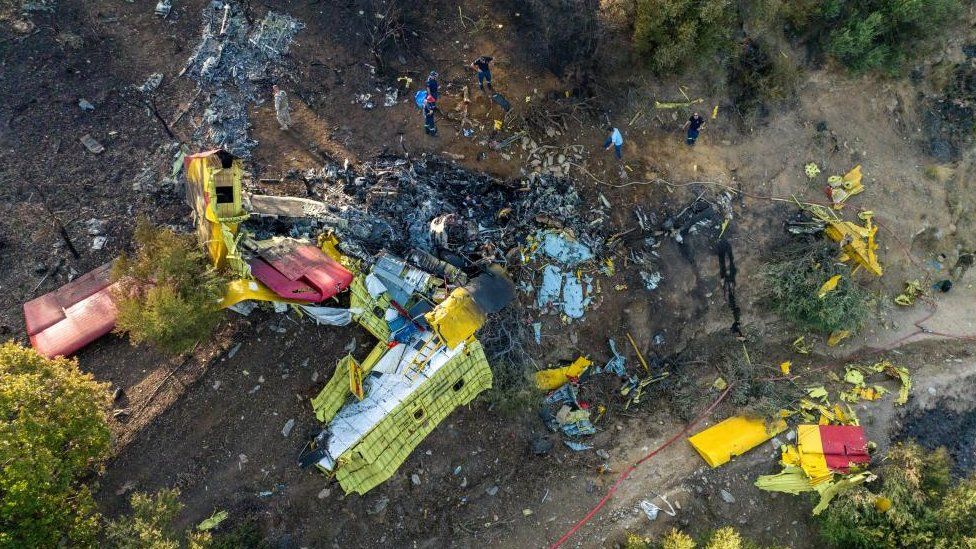 In the last week, more than 35,000 hectares (86,500 acres) of forest and other land has been scorched by fire in Greece, the World Wildlife Fund for Nature said.
Greek Prime Minister Kyriakos Mitsotakis told his cabinet the next three days "will be difficult" but he hoped conditions will ease from Friday.
"Let me state the obvious," he said. "That in the face of what the entire planet is facing, especially the Mediterranean, which is a hotspot for climate change, there is no magic defence.
"If there was, obviously we would have implemented it."
Source: BBC