Netflix is planning its largest-ever lineup of South Korean content, with 34 new and returning titles set to roll out this year.
The streaming giant made the announcement Tuesday. It said that audience data showed "over 60% of all Netflix members" watched Korean titles last year.
The nearly three dozen new programs include a range of television series and films, which run the gamut from thrillers to dramas. The company declined to disclose how much it planned to spend.
In 2021, company executives said Netflix (NFLX) planned to invest about $500 million into Korean content, on top of $700 million already spent since 2016.
The move underscores how Netflix is increasingly doubling down on Korean content as fans worldwide continue to buzz over it.
Last year, the California giant announced the launch of approximately 25 Korean titles — at the time "our largest number to date," it said in a statement then. The previous year, the company unveiled 15.
"The global popularity of K-content has continued apace over 2022," Don Kang, the company's vice president of Korean content, said in a brief statement.
"Over the last year, Korean series and films have regularly featured in our Global Top 10 list in more than 90 countries, and three of Netflix's most-watched shows ever are from Korea."
One of those shows is "Squid Game," which shows contestants playing deadly children's games to win cash prizes. The survival drama became the company's top show worldwide in 2021.
Last year, "Extraordinary Attorney Woo," a series that followed titular character Woo Young-woo as "a newbie at a top law firm and a woman on the autism spectrum," also shot to the top of the streaming platform's charts for several weeks.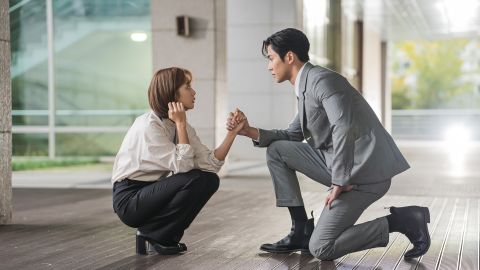 A scene from "Destined With You," a new show set to debut on Netflix. The series is one of 34 Korean titles the company plans to roll out this year.Netflix
The forthcoming titles for 2023 include six Korean movies, starting with the debut of a sci-fi thriller, "JUNG-E," on Friday, according to Netflix.
It will also include new shows such as "Destined With You," a romance between a hotshot lawyer and a civil servant, as well as the latest installment of returning series "Sweet Home," which depicts a teen's fight to survive as humans turn into monsters.
Netflix is increasingly producing original international content and leaning on prospects overseas as its growth in North America slows.
Netflix added 1.4 million paid subscribers in the Asia Pacific in the third quarter, making it the company's fastest growing region, according to its most recent earnings.
Other media behemoths, such as Disney (DIS), are also betting big on Korean content. The company has recently greenlit scores of new titles from South Korea, including a slate of original shows with K-pop band BTS.
Source : CNN